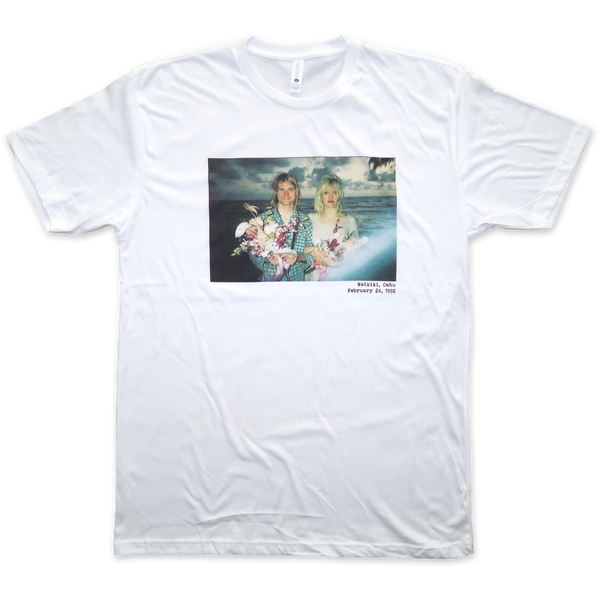 Kurt Cobain+Courtney Wedding T-Shirt
3600 Next Level Soft Tee
SMALL BATCH.
Dye-Sub Print 
I wanted this shirt. So we made it. It's pretty emo, I'm aware of that. 
Fuck you.
I was at my peak awkward age when Kurt Cobain died. I fake cried at school when I had heard he killed himself from the care giver of a handicapped kid in my class. She was in her 20's and was in a local band called The Nancies. She was the singer and a red head. I think her name was Cynthia but honestly I don't remember...
I do however remember a few of my first CD's back then were: An ACE OF BASE album (again Fuck You) and Nirvana's Nevermind. I also remember going halfsies on Snoop Doggs Doggystyle that we had someones older brother buy and then had to keep at Steve Hertz house because his mom didn't care. Oh and shout out to the Quisenberry brothers and that King Missile album with "detachable penis" song on it. That was mind blowing. When Green Day's Dookie came out that changed everything for me. Then somewhere along the way I found Metallica and Slayer on a canadian Skate/Snowboard video "Whiskey 2: Adventures of Boozie the Clown". Slayer and Metallica are still in my heavy rotation to this day and even once in a while I'll play ACE OF BACE, I mean NIRVANA. Shit.